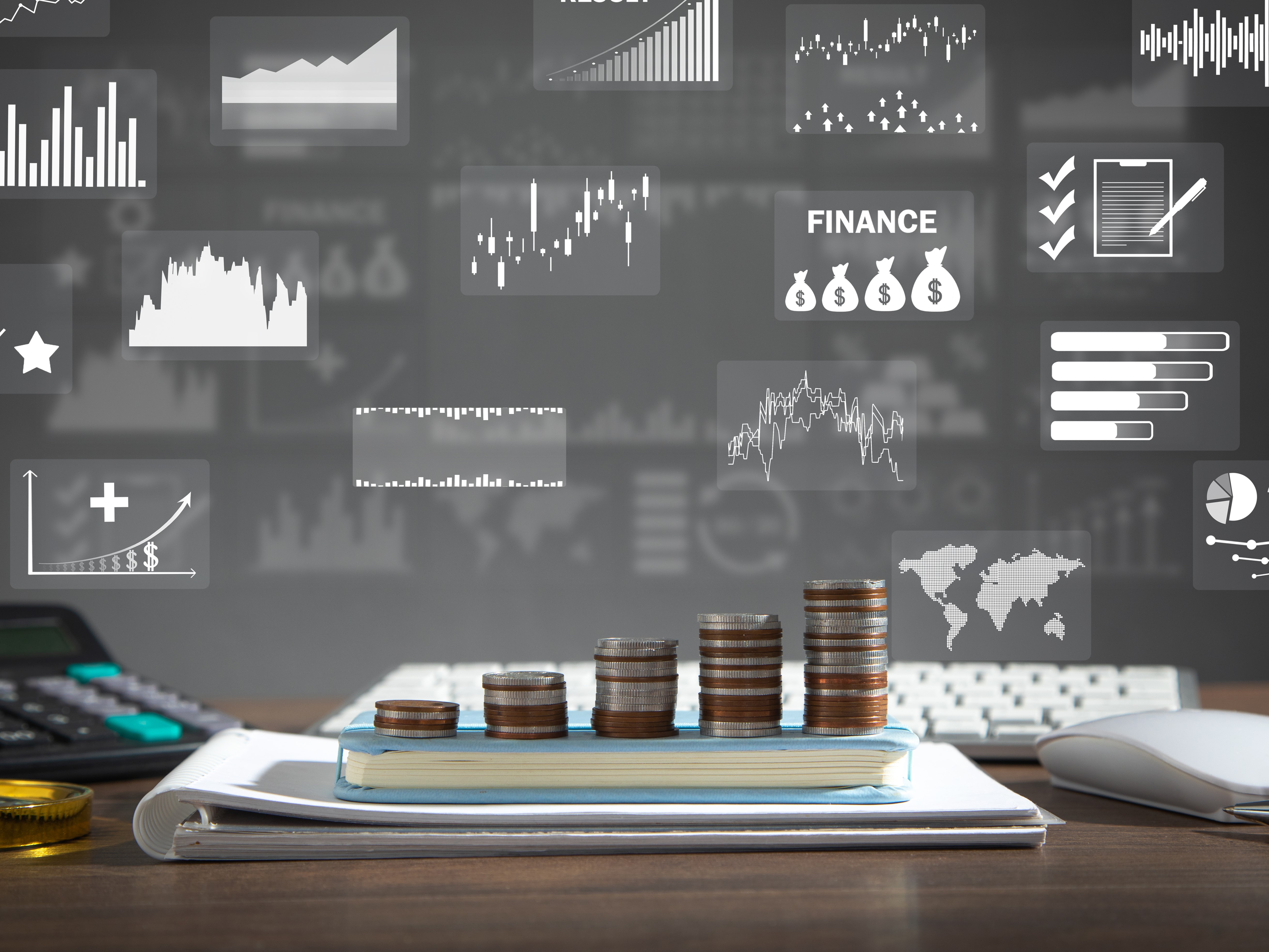 For the past three years, the financial markets and all things investing have felt like an intense rollercoaster ride. From a steep drop in stocks in 2020, a jaw-dropping rebound, and new all-time highs for the S&P 500 to sustained interest rate hikes and sky-high inflation, the ride has certainly been filled with its ups and downs.
This intense volatility, combined with new and easier ways to access investments, has prompted many Americans to become more interested in the markets. Yet, despite the ease of access to investing platforms and educational resources, many investors are finding themselves more anxious about their financial situations. Read on to learn about this interesting dynamic and how investors can help insulate their portfolios and become more confident in their financial futures.
Growing Interest in Investing
Since the pandemic initially rocked all-things-finance in March 2020, Americans' interest in investing, cryptocurrency, and personal finance has skyrocketed. During 2020, downloads of personal finance apps such as Mint and EveryDollar that help people track spending, saving, and their net worth grew by roughly 90%.
Investment apps like Robinhood also experienced tremendous growth over the same period, introducing new people to the stock market. By the end of 2021, Robinhood had 22.5 million users, more than double the number of users in 2019.
We've also seen exponential growth in the creation and consumption of finance-related content on social media, YouTube, and news outlets. Today, 80% of young adults get financial planning advice through social media content. All these statistics indicate that Americans are beginning to take a more proactive approach to managing their personal finances.
But Not Necessarily Better Investment Returns
Unfortunately, in practice, greater access to investments doesn't necessarily translate to better investment returns. Similarly, just because more information on investing is available doesn't necessarily mean it's good. Studies show that the more often an individual trades their accounts, or even checks their 401k balance, the lower their returns are expected to be. The finding highlights how when buying and selling stocks frequently, investors introduce more opportunities to make mistakes by buying when a stock is high and selling when it is low.
Think of it like going grocery shopping when you're hungry. Our grocery stores have more food, a wider variety of products, produce and meat, and meals that are easier to prepare than ever. But that doesn't mean we're eating healthier, for when standing in the checkout line, stomach grumbling, it can be hard to resist the jumbo-sized Snickers bar.
How the Average American Feels About Their Financial Situation
Interestingly, despite a growing interest in investing, the majority of Americans still feel anxious about their personal finances—citing concerns about inflation, savings, retirement, housing, and education planning. For instance, over half of Americans feel that their finances control their lives and have trouble managing their money-related worries. More than 1 in 3 Americans making over $100,000 a year are living paycheck to paycheck. More than half of Americans feel that they can't get ahead on their finances. US consumers now owe $986 billion on credit cards, a 17% increase from a year ago and a record high. When it comes to savings, just over 50% of Americans met or exceeded their savings goals in 2022.
U.S. Household Debt As Percent of GDP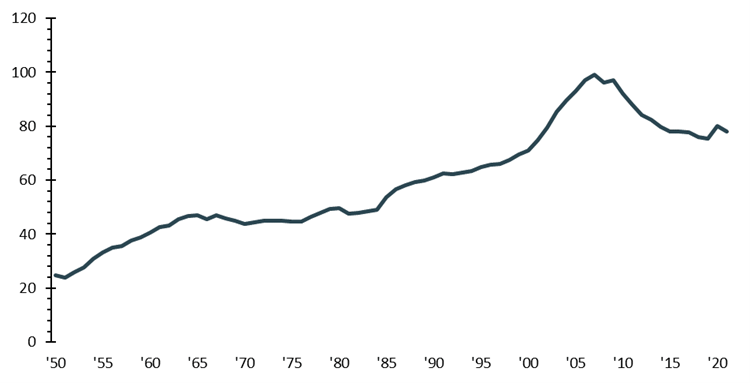 Source: Kestra Investment Management and International Monetary Fund.. Data as of May 22, 2023.
What This Means for You
If you're reading this article, you're probably already working with a financial advisor and have created a financial plan to put yourself in a better position than many Americans. Following a tried-and-true process for investing can help insulate your portfolio from market gyrations and ease financial concerns:
Start (or maintain) an emergency fund: This fund will buffer you in the case of an unexpected event like a job loss or a major, unexpected expense – and should be relatively liquid and low-risk to avoid potential losses.
Keep a long-term perspective: The longer you hold stocks, the greater your chance of growing your wealth.
Diversify: A variety of asset classes, including stocks and bonds, large- and small-capitalization stocks, US and non-US assets, etc., can help provide a smoother ride for your portfolio.
Evaluate your portfolio periodically: It's critical that your portfolio reflects

 

your

 

financial goals and risk tolerance – not those of a friend or neighbor. Speak with your financial advisor to ensure your portfolio is tailored to your unique circumstances.
So regardless of what's in the headlines or what's happening in the markets today, you're likely going to achieve long-term financial success if you stick to a disciplined investment approach, diversify your portfolio, and avoid temptations to time the market. But if you do have short-term concerns, be sure to speak with your financial advisor so you can feel more comfortable and confident with your investment strategy.
The opinions expressed in this commentary are those of the author and may not necessarily reflect those held by Kestra Advisor Services Holdings C, Inc., d/b/a Kestra Holdings, and its subsidiaries, including, but not limited to, Kestra Advisory Services, LLC, Kestra Investment Services, LLC, Bluespring Wealth Partners, LLC, and Grove Point Financial, LLC. The material is for informational purposes only. It represents an assessment of the market environment at a specific point in time and is not intended to be a forecast of future events, or a guarantee of future results. It is not guaranteed by any entity for accuracy, does not purport to be complete and is not intended to be used as a primary basis for investment decisions. It should also not be construed as advice meeting the particular investment needs of any investor. Neither the information presented nor any opinion expressed constitutes a solicitation for the purchase or sale of any security. This material was created to provide accurate and reliable information on the subjects covered but should not be regarded as a complete analysis of these subjects. It is not intended to provide specific legal, tax or other professional advice. The services of an appropriate professional should be sought regarding your individual situation. Kestra Advisor Services Holdings C, Inc., d/b/a Kestra Holdings, and its subsidiaries, including, but not limited to, Kestra Advisory Services, LLC, Kestra Investment Services, LLC, Bluespring Wealth Partners, LLC, and Grove Point Financial, LLC. Does not offer tax or legal advice.