In 2022, by some measures, it was easier for an American to find a job than it has been in over 50 years. Individuals were quitting their jobs at a record rate for higher paying positions. With fewer workers and more jobs, employers raised wages aggressively in order to attract new talent.
From many workers' perspectives, this was a bonanza, a time when job seekers could name their terms both monetary and intangible. As wages rose, so too did benefits such as flexible schedules and free lunches. But as economists like to remind us, there is no such thing as a free lunch.
Not only did businesses see their profits get squeezed, the prices of everything from cars to eggs to sofas soared. Enter the Federal Reserve. The Fed's Board of Governors raised the fed funds rate from near zero to over 5% in what felt like a flash. Stocks and bonds tumbled, confidence fell, corporate profits declined.
Despite the seeming carnage elsewhere, the labor market hardly seemed to budge. The unemployment rate actually declined from an already low 4.0% in January 2022 to an even lower 3.4% the following year. In the meantime, wages moved in the opposite direction, increasing by over 6%. While the low level of unemployment is not in and of itself a concern for the Fed, wage growth is, since wages feed directly into inflation and inflation continues to run uncomfortably high.
Wage Growth
12-month moving average of median wage growth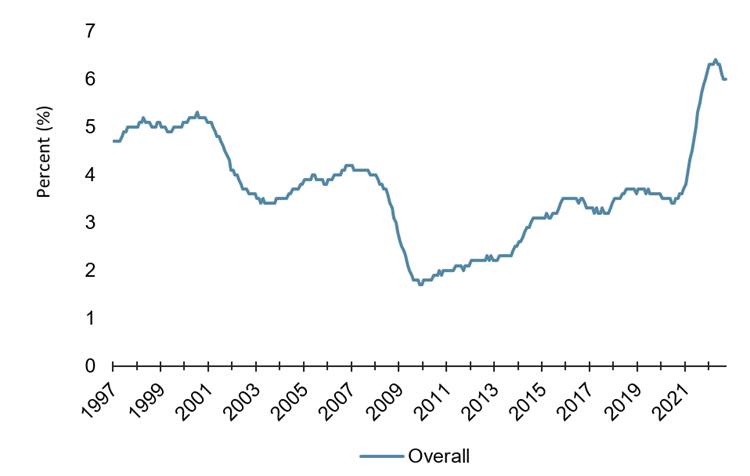 Source: Kestra Investment Management, Federal Reserve Bank of Atlanta, with data from Bureau of Labor Statistics. Data as of September 11, 2023.
With inflation slowing, but still uncomfortably high, the Fed faces a pressing question: is the labor market slowing enough to allow inflation to ease further?
A number of factors suggest that jobs are indeed becoming harder to find. After a precipitous decline in workforce participation during Covid, more individuals are joining the workforce, driving participation rates closer to pre-pandemic levels. The percentage of workers voluntarily quitting their jobs has dropped back to the rate from 2019. More available workers means less pressure on wages.
Job Openings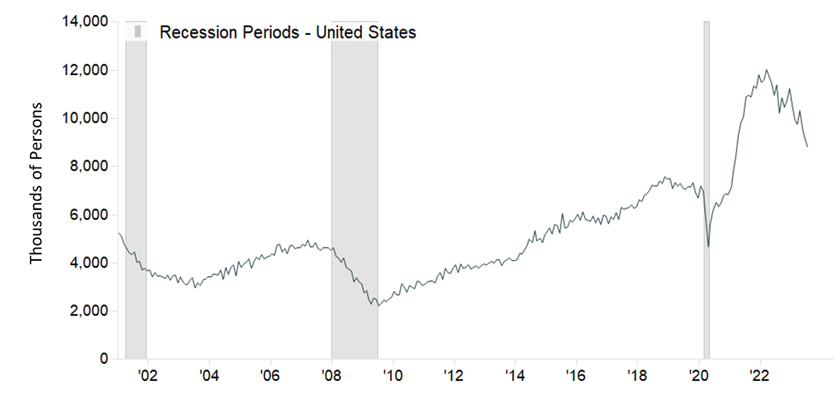 Source: Kestra Investment Management, US Bureau of Labor with data from FactSet. Data as of September 11, 2023.
Despite this recent loosening of the labor market, it still remains tight compared to historical periods. For instance, even though the number of job openings has fallen by about one third since early 2022, openings are still well above 2019 levels. Similarly, wage growth has eased from a peak of 6.7% in mid 2022 to 5.3% last month, but that latest number is still well above the pre-Covid rate of 3.7%.
For now, with the trend of fewer job openings and more workers, officials at the Federal Reserve are able to take a wait-and-see approach. Broad price measures continue to suggest that inflation is receding. But for inflation to get to a more comfortable level, wage growth is likely going to have to soften further. In the meantime, stocks have staged an impressive rally, rising over 16% year to date, as investors bet that a softer labor market will translate to softer inflation.
The opinions expressed in this commentary are those of the author and may not necessarily reflect those held by Kestra Advisor Services Holdings C, Inc., d/b/a Kestra Holdings, and its subsidiaries, including, but not limited to, Kestra Advisory Services, LLC, Kestra Investment Services, LLC, and Bluespring Wealth Partners, LLC. The material is for informational purposes only. It represents an assessment of the market environment at a specific point in time and is not intended to be a forecast of future events, or a guarantee of future results. It is not guaranteed by any entity for accuracy, does not purport to be complete and is not intended to be used as a primary basis for investment decisions. It should also not be construed as advice meeting the particular investment needs of any investor. Neither the information presented nor any opinion expressed constitutes a solicitation for the purchase or sale of any security. This material was created to provide accurate and reliable information on the subjects covered but should not be regarded as a complete analysis of these subjects. It is not intended to provide specific legal, tax or other professional advice. The services of an appropriate professional should be sought regarding your individual situation. Kestra Advisor Services Holdings C, Inc., d/b/a Kestra Holdings, and its subsidiaries, including, but not limited to, Kestra Advisory Services, LLC, Kestra Investment Services, LLC, and Bluespring Wealth Partners, LLC. Does not offer tax or legal advice.
Related Articles
Money with Murphy: China: Struggle to Reignite
8/22/2023
Late last year, China swiftly ended its zero-Covid policy, reopening an economy that had been caught in a quarantine stranglehold for years. With that, many Chinese and foreigners alike predicted a swift resumption of economic growth. Reality, though, has been far different. For Kara's take on what slower growth in China might mean for investors, watch this week's Money with Murphy.